Start Protecting Immediately
Unbelievably simple. Just install the Blustream® app and place your sensor in the same location as your valuable, whether it be your wine cellar, humidor, safe, etc. Start protecting in minutes.
Temperature & Humidity Tracking
Our sensor constantly monitors and records temperature and humidity conditions and streams data to any Bluetooth-connected iOS or Android device. Provide notifications when preset limits are exceeded. Display the data hourly, daily, weekly and monthly.
Valuables Dashboard
Create easy to read heads up displays to monitor the health and condition of multiple sensors at a glance.  Bright warning colors let the user see when conditions are outside recommended norms, so they can take immediate action.
Store Important Details
Create a customized details page for each protected item. Users can store critical information about their things such as brand, model, serial number, purchase price and estimated value.
Protect all your valuables
Easily select and protect various types of valuables all from a single app. Blustream will automatically adjust accordingly.
Impact Event Recording & Reporting
Monitor and record high G-force events, such as impacts from being dropped or mishandled. The hardware device records the time, date, and magnitude of the event and sends an alert to any Bluetooth-connected device.
Data Storage
The Blustream® Sensor stores up to 10 days of hourly temperature, humidity, and activity information without connecting to a smart phone or tablet.  Upon connection, the information is transferred to the user's smart device and backed up to the Blustream data server for long term storage in the user's account.
Within Sensor Range
Our sensor technology utilizes Bluetooth® Low Energy, an easy-connect system that allows for seamless linking of multiple sensors to monitor your valuables when within Bluetooth range.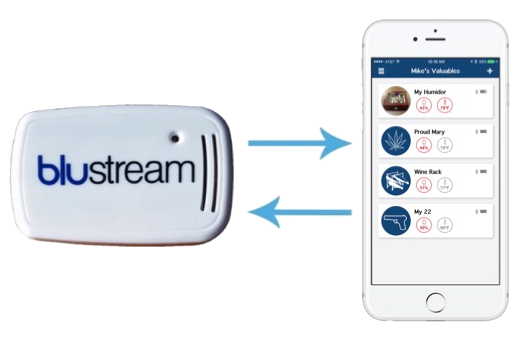 Blustream's Remote Monitoring Capabilities
Some of your valuables do not require remote monitoring. Things in your home like guitars, cigars, or wine can be monitored while within Bluetooth® range.
Valuables like your RV, firearms, or second home may necessitate a remote monitoring system that is reliable and easy to use, allowing you to check on them while you are away.
Outside of Sensor Range
Use any spare and compatible smart device you already have as a bridge to remotely monitor your valuables!
Our technology is optimized by a combination of Bluetooth® Low Energy, Wi-Fi, and Cellular to provide a robust portal to all of your connected sensors, even when you are out of range. Using our remote monitoring technology provides these features:
Provides state of the art security to the sensor communication system and your valuables based on industry standards.
Avoids the bandwidth issues associated with a Wi-Fi only system. Using many Wi-Fi devices at once can cause network crowding. Our system mitigates that.
Makes the system portable for your on-the-go valuables, including RVs, second homes, firearms, and many more.
Extends the battery life of your sensor to over a year, so your system will protect your valuables longer.
Blustream is a tool to help you but you are ultimately responsible for the safe keeping of your valuables! As stated in the Terms of Service Blustream is not responsible for any loss, damage, or issues arising to your valuables.
Unleash Blustream® OEM Technology in your Products!
Your customer's valuable is an investment, a friend, their livelihood.
Help them monitor and protect it by integrating Blustream smart protection technology into your products.
Incorporate our patent-pending environmental and impact sensor into your products.
Leverage the Blustream SDK to create purpose-built iOS and Android apps for your market.